Field of Daisies
While the world is going crazy
And emotions are running high
I am in my field of daisies
Talking to a butterfly
That flutters all around me
As if she understands
The need I feel to flee
To a new found land

With a plan for a new future
Which lies far beyond our time
Where we can start all over
And make our lives sublime
While the people are revolting
And politicians fight with words
Doctors are inventing
A pain that doesn't hurt
I need to change my way of thinking
I need to change my state of mind
A complete metamorphosis
Still I have some time

To embark on a new future
Which lies far beyond our time
Where we can start all over
And make our lives sublime
While drones are flown by cowards
Who play their deadly game
Computer software teaches
Our children to do the same
It is time to leave the garden
And to find a way away
From a world of fear and anger
To a place where we can stay

To establish a new future
Which lies far beyond our time
Where we can start all over
And make our lives sublime.
---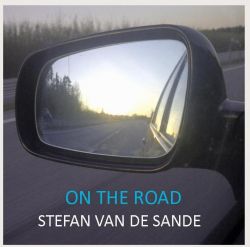 ---
Title: Field Of Daisies
Song & Lyrics: Stefan van de Sande
Album: On The Road
Year release: 2015
Year composing: 2014
Info: Written in Bedum. Reading only bad news on the internet was the reason for writing this song.
Thanks to:Thanks to Maria and Patty for helping me with the lyrics.