TENTS
An overview of the tents I use.
Posted by Stefan van de Sande - 2016-04-26 11:32:21
---
I PREFER TO SLEEP IN MY TENT, IT FEELS LIKE HOME!
This morning I woke up with snow on my tent which is for April not so strange, but for me it was the first time that I had snow on my little "De Waard" tent. So I thought perhaps it is a good reason to show you some of my gear I use when I camp.
Lets start with the tents. I have three tents. Two of them are always in my car. They are small and for 2 persons. The third tent is much bigger and heavier and is a family tent.
GROTE STERN
The tent I like the most is my little "De Waard" tent called "Grote Stern". The tent has the name of a bird because of its shape. It looks like a 'stern. The tent is made of high quality heavy cotton and has one pole in the centre. The roof is made of cotton and the floor, which is one piece with the roof, made of high quality synthetic called "bysonil". I bought the tent in the late 80's so the age is around 27 years. And still it is in a very good state. And I hope that I can use it for some years more.
One of the great things of this cotton tent is that I sleep very good in it. The cotton give a fine breath and there is never condense in the tent. Another fantastic quality of this tent is that the floor and walls are from one peace and keep the water out of the tent, even when it rains buckets. It stays always dry inside. The tent is made for use in Dutch windy circumstances. So it can have easily 10-11 Beaufort. And that gives a safe feeling, especially in the night time when thunder storms with heavy rain comes along. To pitch the tent is a matter of 10 minutes. To pack it in goes even faster.
So overall a great nice piece of equipment. The only thing I have to be very careful with is the danger of mould. Because the tent roof is made of cotton, it has to dry first before I put it in the car again. Well it can be rolled up for some hours (12 max.) but that is the maximum. If you keep it longer unfold and wet the cotton starts to mould. And if it once stayed too long wet there will become grey spots in the cotton.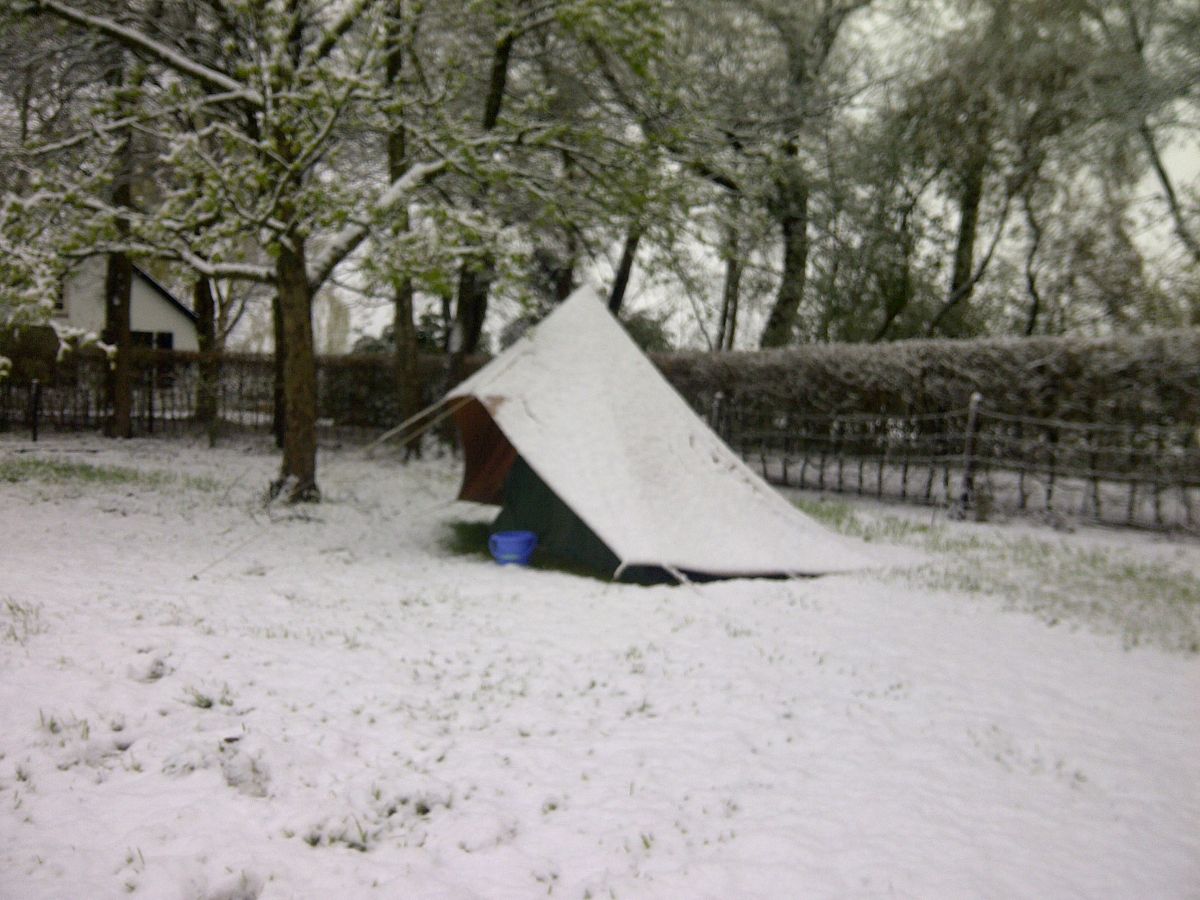 NAMMATJ 3 GT , HILLEBERG
My other little tent is a lightweight hiking tent from the Swedish tent maker "Hilleberg".
I bought the tent years ago after my cheap tent was blown away in the Swedish Mountains. It is a tent for 2 persons and it has a sort of a little hall where I put my food and other stuff what has to stay dry. The tent has some good qualities which it makes it a pleasure to use it and to sleep in it. First of all it is easy to set up and also to pack in again. Even when it is wet, it can have it to stay packed in for a while without that it will start to mould or stink. So it is a fine tent for travelling and hiking with bad weather. Another very nice thing of the tent is that it has very good mosquito protection in the sleep tent. For Scottish and Scandinavian circumstances it is absolutely necessary to have such protection!!
Besides mosquito's and midgets a tent should give shelter from the storm and hail. The "Hilleberg" is designed to use in the most extreme circumstances and therefore I sleep even better when it storms because the feeling of that nothing can happen.
Of course every tent has minor qualities. Because it is a synthetic tent UV light and time demolish slowly the tent. Two years ago the ground sheet was leaking so the "Hilleberg" company in Sweden made a new groundsheet. And the flexible poles have not the eternal life. Since I have the tent (15 years) I had 4 times a broken connection.
But overall, the "Hilleberg" is a very good tent.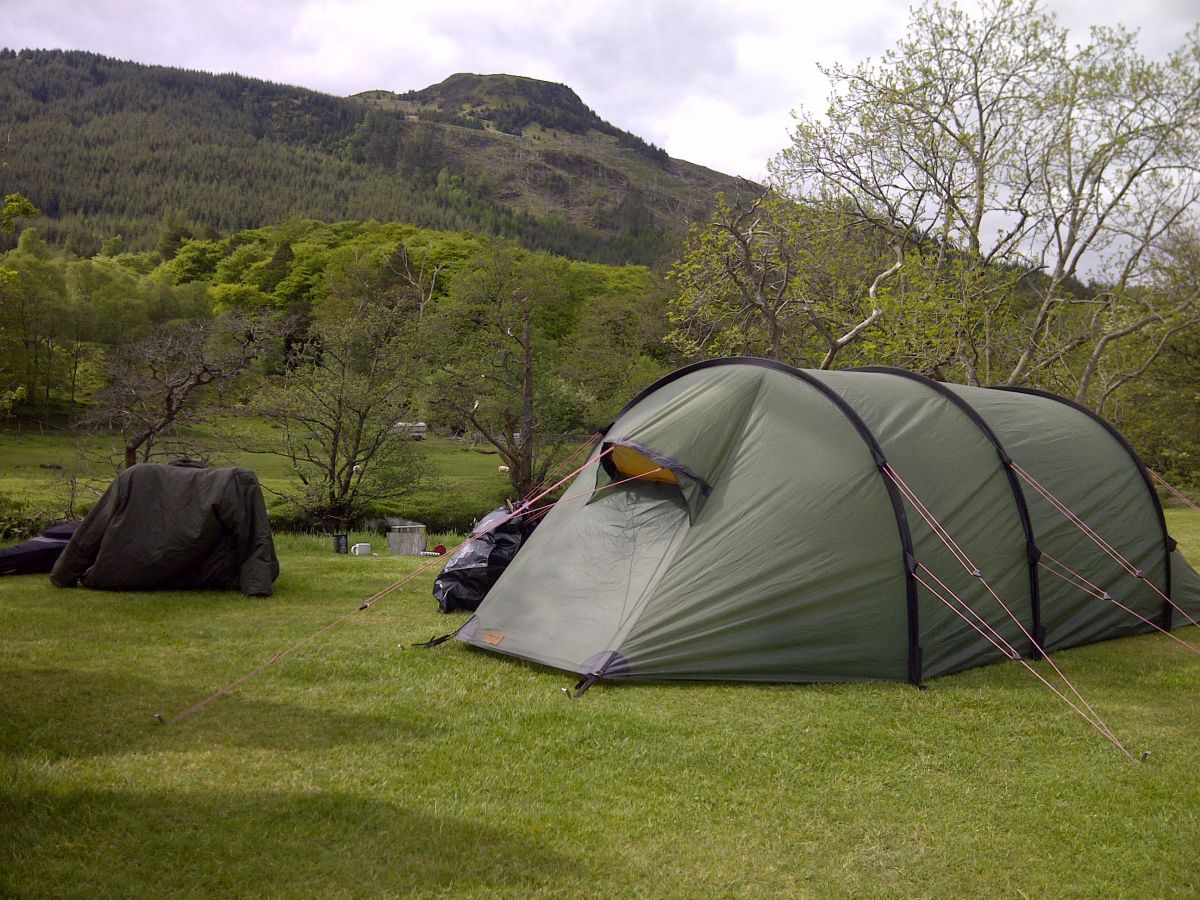 The "Hilleberg" at the feet of Ben Sheean, The Fairy Mountain of the Caledonians. Strathyre 2016, Scotland.